Home > News > Company information > Fulian Warp Knittin...
02,2018
Wellcool
Fulian Warp Knitting Co.Ltd. Was Awarded the Certificate of Intellectual Property Management System
When Fujian Fulian Warp Knitting Co., Ltd. plans to carry out intellectual property management system, the company participates in the related work positively. On March 23, 2018, the company successfully pass the certification of the intellectual property management system and catches up with the IPR Express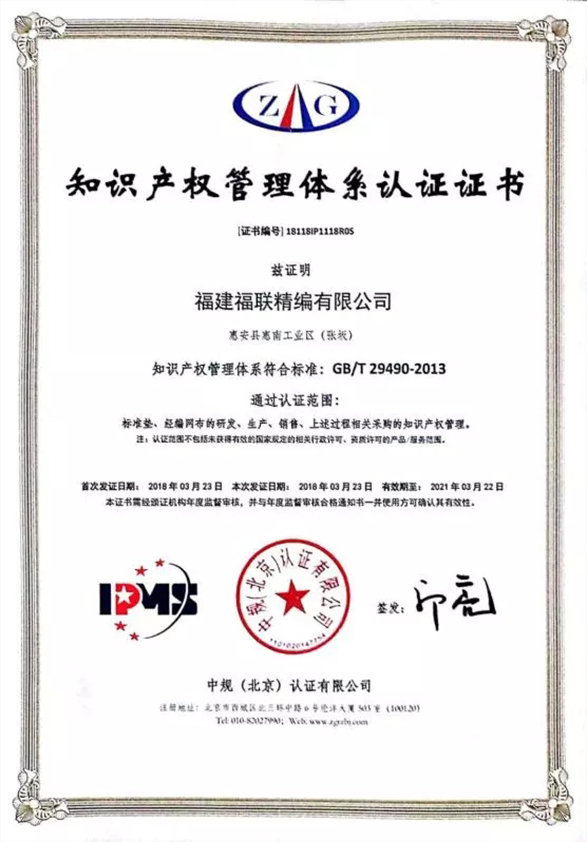 WELLCOOL, a subsidiary of Fulian Jingbian Co., Ltd., is a enterprise which collects honors such as high-tech enterprises, innovative enterprises in Fujian Province, intellectual property pilot enterprises.It specializes in the production of high-end 3d fabric ,3D mattress,3D Pillow,3D cushion and other high-tech products and specially provides products for industries such as home, home textile, baby, automobile, medical, sports and other brand enterprises all over the world

Through the implementation of the standard, the independent intellectual property rights owned by the company's products are protected by law in production and sales. The company can seize the market and sales the products ahead of others. someone who imitates products or infringes us shall be investigated for legal responsibility according to law ; In case of lawsuits involving others in the sale of products, due to the independent intellectual property rights owned by our own products, we have the legal status in commercial litigation, and may win the opponents according to law, or may ease and resolve conflicts, and constantly maintains and consolidates the competitive advantages of the corporate market.